Important carpet care advice for autumn and winter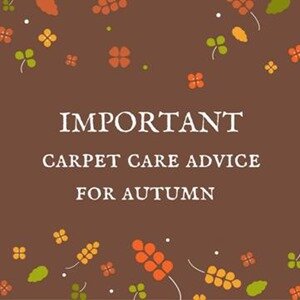 While it's sad to see the sun pack its bags at this time of year, the autumn and winter brings with it a whole host of opportunities for adventures. You now have the chance to wrap up warm and enjoy a muddy walk around the countryside.
Unfortunately, while a brisk walk and dose of country air can do wonders for our physical and mental health, the same can't be said for our carpets which can fall victim to muddy boots and paws. Here are a few ways to protect your rugs and carpets during cold and wet weather.
Sweep often
Debris from outside can quickly bed its way into your carpet fibres, which can make it appear dirty even after vacuuming. One way to stop this from happening is to regularly sweep away leaf piles and other dirt from the entrances to your home.
Stop dirt in its tracks
The next step to preventing dirty carpets is to minimise the amount of dirt that makes its way into your home. To do this you try and encourage good behaviour from all your residents by placing a doormat and shoe rack in your hall way. When these are spotted they will encourage guests to wipe their feet and then remove their shoes, minimising the amount of dirt that makes its way inside.
This is particularly important in the colder periods of the year as mud and slushy snow or ice is more likely to be brought inside, along with salt used to grit roads which can wreak havoc on your carpet fibres.
The same goes for your pets. If you've taken your dog out for a walk then make sure to wipe off their paws and give their coat a quick rub down before they make it through the rest of your home.
Cleaning mud
As awful as it may seem at the time, mud isn't impossible to get out of a carpet. Generally if you tackle a stain quickly then you have a better chance of removing it. So if mud does make its way on to your carpet then allow it to dry before giving it a quick vacuum away. After you've removed as much mud as you can you should grab a cloth, add a little detergent and begin to gently blot the stain away.
Don't despair! If you fail in your attempt to stop dirt from making its way to your carpet, in this blog we detail some tried and tested methods of removing stains that are sure to work.
For more tips on cleaning your floors, please read our guide on how to maintain and clean your floors and carpets.