How to maintain and clean your floors and carpets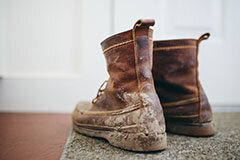 There is nothing quite like the sheer panic induced by the sight of muddy footprints or spilled red wine on a pristine white carpet. However, there is often no need to worry, as remedies are usually on hand. For example, mud left to dry can usually be vacuumed away and sprinkling some salt on red wine is known to soak it up - phew! In fact, most stains can be cleaned from carpets and other types of flooring. In this article, we will explore some of the ways you can keep your flooring in good condition, not only through removing stains but also by maintaining their healthy look, so they appear brand new for far longer.
Wooden Flooring
Each particular type of flooring has its own Achilles heel and for wooden flooring this comes in the form of gravel and dirt which can scratch and mark wooden floors if it is given enough time to do so. Gravel and dirt can come from a variety of different places, inside and outside of the home, and the best way to avoid scratches and scrapes is to have a regular routine of dusting and sweeping.
You can also reduce the chance of nasty grit being brought into your home in the first place by asking visitors to remove their shoes at the door. If you do discover a light scuff then you may find it can be buffed out quickly with a cloth, and heavier scuffs can disappear with the addition of some baking soda.
Wooden flooring is a popular choice with clients looking for something unique and rustic. One of the biggest selling points for wooden floors is that every piece of wood is different and therefore provides a home with something very unique.
Laminate Flooring
Laminate flooring is a durable and long lasting choice for flooring and is well suited to kitchens in particular.
Laminate flooring doesn't require a lot of effort to keep clean but the important thing to remember is that it can warp if exposed to too much water. So the best way to tackle marks and stains is with a microfiber mop and some cleaning solution, after giving it a quick once over with the vacuum. You should also be wary of using harsh chemicals such as bleach to clean this type of flooring as it can damage the laminate and leave nasty streaks behind. If you have the time to spare then you could even create your own floor cleaner by mixing 3 parts water with 1 part vinegar and a little washing-up liquid, but remember to apply sparingly, so as not to cause water damage to your floor.
Vinyl Flooring
For cost, vinyl flooring is hard to beat. Made from a durable PVC material it is a perfect match for bathrooms and kitchens and comes in the form of sheets, tiles or plank flooring.
Most good vinyl floors will come with a 15 year warrantee such is the confidence in it's durability. However, despite this, vinyl flooring will still need a clean from time to time.
Vinyl flooring is particularly easy to clean and simply needs a microfiber mop to tackle stains. The mop should be dry though as excessive water can cause vinyl flooring to warp, although, it is usually safe to lighlty damp your micofibre mop before using it to tackle more stubborn stains. Vacuuming is also fine for vinyl floors.
LVT Flooring
Luxury Vinyl Tiles or LVT as it is sometimes known, is a high impact designer floor which can transform living spaces. Highly customisable, it can be altered with different motifs and borders and even the direction of the strips can be adjusted if you desire. With the added price of a luxury product such as LVT also comes an extra amount of durability which makes it a particularly hard wearing type of flooring for the home.
From time to time, LVT will need simple upkeep through dusting and hoovering, being sure to avoid the use of any abrasive cleaning agents, in favour of a mop and some mild detergent to keep it glossy and bright for longer.
Carpet
Carpet remains by far the most popular choice of flooring for homes in the UK. The wide availability of different colours, styles, textures and materials makes it a versatile choice which allows this type of flooring to fit with almost any decor in a home. For those with children and pets it also has the additional benefit of being comfortable and retaining heat well.
With carpet, it's important that you vacuum regularly so that crumbs and dirt can be cleaned away, but it is also beneficial for removing pet hair, reducing allergens and helping your carpet to appear bright and new. In fact, the more regularly you vacuum and clean your carpet the better it is going to look. As a rule of thumb this should be around twice a week where possible. If you have less time on your hands then you should focus on areas that get lots of footfall throughout the day and save the areas under cupboards, tables and sofas for when you have more time to clean.
Treating Carpet Stains
When it comes to stains on carpets, you should be wary of how you treat them. Often, rubbing a stain in (even with water) can cause it to further soak up in the carpet fibres and cause much more damage. Instead it can be a better tactic to gently blot the stain or allow it to dry before you remove stains or dirt. Here are a few common stains and some tips on how you can remove them.
Red wine
Place salt over the stain and leave it overnight before vacuuming it away. The salt will soak up the liquid.
Coffee / Coke
Blot the stain dry with a white paper towel and clean with a small amount of non-bleach detergent, rinse and repeat the process.
Pet mess
With gloves try to remove any solid mess, if there is any liquid residue then blot it dry.
Ink stains
Similarly to red wine you can use a pile of salt to draw out the ink from your carpet.
Muddy footprints
Allow the mud to harden on your carpet and remove any big chunks either with your hands or a vacuum. Next, use a clean white cloth with a small amount of non-bleach detergent to blot dry the stain away.
How To Prevent Stains
These days, many carpets, wooden floors and vinyl flooring come with protective layers or coating which aim to minimise the effect of dirt, scratches and spills. However, there are some additional ways that you can protect your flooring from mess.
For instance, if you have a particularly expensive LVT floor or luxury carpet then you might want to ensure that there are enough places for drinks to be placed, so as to avoid them being knocked over which could leave stains on the carpet.
If you have pets then you might wish to restrict their access to certain rooms. This can prevent them from bringing mess into the house and reduce the amount of pet hair your carpet collects which can be unpleasant for both your family and visitors to your home.
Another key way you can prevent stains is to enforce a no shoes rule throughout your house and a good way to encourage visitors to take their shoes off is to place a shoe rack by the front door so that they realise that shoes are not allowed within the house. You should also provide doormats inside and outside of entrances so that anyone walking inside has ample opportunity to brush off any excess mud or dirt from their shoes.
Finally, it is very important to choose the right flooring for the right rooms in the house, for example carpet might not be best suited to the hallway or kitchen as these might be areas where muddy shoes could leave stains. Instead, you might wish to have wooden or vinyl flooring in these parts of the house which can be easier to clean.
For more information on choosing the right flooring for different rooms in the house see our 'room by room' guide here.
---
---