An overview of vinyl flooring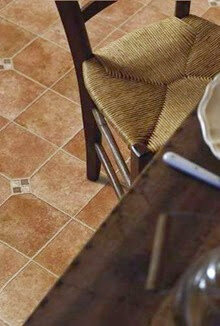 What is vinyl flooring?
Vinyl flooring, or cushion floor as it is also known, is among the least expensive forms of flooring available. It is made from PVC material which is tough, durable and well suited to wet-areas like the bathroom and kitchen. Vinyl tends to be available as sheet, tile or plank flooring.
Why should you choose it?
When it comes to choosing new flooring for your home it can be a struggle to find something that suits all of your needs. You might find the perfect style, but discover it's out of your price range, or you might find a floor that's sturdy but isn't up to much visually speaking.
Vinyl flooring can be a great solution to this problem as it is one of the most versatile types of flooring available today and not only that, but it is also substantially cheaper than many other types of flooring.
Vinyl flooring can be installed easily over subfloors. It's suitable for any room and in particular it works well in kitchens and bathrooms. Vinyl isn't damaged by water, mud or dirt and will often come with an R10 rating which means it is slip resistant – worth bearing in mind if you are planning on installing a new bathroom floor.
When it comes to maintaining a vinyl floor you'll be happy to know that they don't require much upkeep. Sweeping and an occasional damp mop across its surface can help vinyl flooring keep its shine for a very long time – in fact most come with a 15 year warrantee.
To find out more about vinyl and other types of flooring, please read our article Flooring: A Product Guide or visit our show room on Outer Circle Road in Lincoln.