Flooring: A Product Guide
When it comes to putting new flooring in your home, there are five key options: carpet, wood, vinyl, laminates and LVTs. There was a time when most people would have chosen carpet for the majority of rooms in their home, but there has been a noticeable shift in recent years and people are now considering the other four options more frequently.
This article therefore looks at these four types of flooring in turn, considering the pros and cons of each, as well as which rooms they work well and not so well in, and looks at issues such as maintenance and durability.
Wood flooring
There are two key types of wood floor: solid and engineered. Whilst you have options for different finishes depending on personal preference, for example a wax, oiled or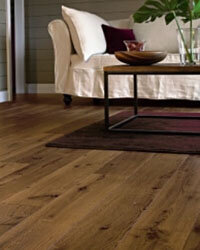 lacquered finish, and different choices in terms of type of wood, these are essentially your two alternatives.
Wood: A unique, natural product
One of the main appeals of a wood floor is that it is unique. Made from a tree, wood is a completely natural product and so each piece is different, making each wood floor unique. You can therefore be sure that your floor will be different to that of your friends, families and neighbours. When you are shown a sample of a wood floor in store, that is exactly what it is - a sample. It can only ever be a representative.
Maintenance and durability
You could describe a wood floor as a "forever floor". It is incredibly long lasting, as hundreds of churches and church floors the length and breadth of the country demonstrate.
However, the fact that they are so long lasting has led to a massive misconception that a wood floor is the hardest wearing floor that you can get, which is not the case.
A wood floor will scratch and is prone to movement. But this is a part of the natural ambience and aging process of a wood floor. It is part of the beauty of the wood, and is what comes with it being a natural product. If you go into a church or a church hall with a wooden floor and take a close look at it, you will see that it has plenty of scratches and marks.
A wood floor will need a lot of maintenance, refurbishment and looking after over time, which is not cheap. If you want a floor that is low maintenance, won't scratch and will look the same in 20 years time as the day you bought it then wood isn't for you. You may want to consider laminate flooring or LVTs instead.
Quality of wood
As with every other type of flooring, a cheap wood floor is likely to be of a much poorer quality than a more expensive one. Green timber for example will be much cheaper, but will also be much poorer quality. It is always best to speak to a non-commissioned flooring salesman who can give you independent advice on what is best for you and your home.
Humidity and wood floors
Another common misconception about wood floors is that many people think that they are ideal for a bathroom, kitchen, WC or other type of wet room, whereas actually wood is one of the least suitable types of flooring for these rooms.
A general rule is that you should not put wood where there is high humidity. This is because wood is hydroscopic, meaning that it effectively works like a sponge, soaking up moisture. So if the atmosphere is heavy with moisture, a wood floor will draw that moisture from the atmosphere into itself, gaining volume and expanding. When the atmosphere is very dry, that moisture is given back out to the atmosphere and the wood shrinks, leading to gapping.
You would therefore instinctively think that in the summer a wood floor would shrink and that in the winter it would expand, but in reality it is the other way round, because in the winter you turn the heating on and the house becomes very dry, leading wood flooring in high humidity areas to "gap".
Where wood floors can and can't go
Wood floors are ideal for bedrooms, lounges, dining rooms and hallways. They make a particularly spectacular impact on visitors when you open your front door and they see a beautiful wood floor in your hall. If you do choose wood, make sure to invest in an outside and inside mat, or ask visitors to take their shoes off before entering, so as not to tread grit and dirt into the floor. It is also worth bearing in mind that, as with every type of flooring that is not carpet, a wood floor is likely to be hard and cold on bare feet, so if you are intending to put it somewhere like a bedroom, you might want to consider under floor heating. If this is the case, you can only put under floor heating under an engineered wood floor, not a solid wood floor.
Because of the humidity issue, we don't put wood floors into bathrooms and other wet areas, we don't like putting wood floors into kitchens, and we would advise against putting it in conservatories. If you are determined to have a wood floor in any of these areas, then we would recommend opting for an engineered wood floor rather than a solid wood floor.
Pros: Unique, natural, beautiful, long lasting
Cons: Will scratch, prone to movement, high maintenance, expensive refurbishment, not suitable for high humidity areas, hard and cold on bare feet
Laminate flooring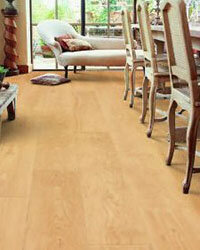 Laminate flooring is ideal for people who want a floor that looks like wood, but don't want a floor that will scratch or require high maintenance. The majority of laminate floors are wood effect, but there are also some tile effect laminate floors as well.
The leading brand of laminate flooring is Quickstep, which is owned by a company called Unilin. You might also know it by the generic name Formica. Laminate flooring has a HDF or MDF backing, a photograph layer and then a wear layer.
When laminate flooring first hit the market it was incredibly popular, as it was an extremely hard wearing product. But, some sellers requested that laminate flooring be made that could be sold at a much lower price, and with the decrease in price came a decrease in quality. This led to laminate getting a bad reputation with some people, and people not wanting a laminate floor because they had a bad experience with the poorer quality product. However, a good quality laminate floor is an entirely different product. In fact, it is so good that you would probably not realise it was laminate and would think that it was real wood or real tiles.
A good quality laminate floor is very hard wearing and will generally come with a 20 year warrantee. It requires minimal maintenance, and is easy to keep clean, requiring only a mop. Although like all flooring options that aren't carpet it is a hard and potentially cold floor, it is compatible with under floor heating, which is an option you might want to consider, particularly in the bedroom.
Where laminate floors can and can't go
Laminate floors work well in lounges, dining rooms, hallways and conservatories, and are a great alternative to carpet in bedrooms, particularly if you or a family member suffers from allergies. There are systems available whereby you can coat your stairs in laminate so that you can have matching laminate flooring in the hallway, up the staircase and on the landing. This looks very nice, although you should also be aware that it can be a bit slippery on the staircase.
Generally, we would recommend not putting laminate flooring in heavy humidity areas, such as the bathroom. However, the kitchen is by far and away the most popular room for laminate flooring, and it is usually very successful. You just have to remember that laminate has MDF on the back, and if water gets to it, it will turn into a substance similar to cotton wool! So, if you have a washing machine leak in your kitchen, you will lose your laminate floor, but then not again not many floors will survive a washing machine leak. If you have a laminate floor in the kitchen, just take steps to keep it dry – for example, don't leave the back door open when it's raining, and put a mat down if the dog is going in and out with wet feet.
Pros: Hard wearing, low maintenance, easy clean, looks good, works with under floor heating
Cons: Not good with high humidity, hard, cold
Vinyl flooring
Chance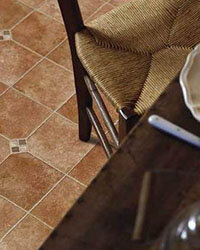 s are they you will know vinyl flooring as Cushion Floor. This is because Cushionflor is the trade name for Nairne, one of the leading suppliers of vinyl flooring.
High quality, hard wearing floor
You might also think of your grandmother's lino when you think of vinyl flooring, but vinyl flooring has come a long way from that. You can, as with all types of flooring, buy cheap vinyl, but you can also buy high quality vinyl which looks extremely good. Many high quality vinyl's have an R10 rating, which means that they are slip resistant, and many have a 15 year warrantee, so are very hard wearing.
Easy to clean and maintain
The main benefit of vinyl flooring is that it is easy maintenance. It is fine if it gets wet, making it a particularly good option for bathrooms, kitchens, en-suites, WCs and wet rooms. It doesn't matter if it gets covered in food or mud, as it is very easy to keep clean, making it an excellent option for kitchens. It is also a popular option for hallways, as the hallway is the first area that you come into in the house with wet or muddy feet, and it is quick and easy to just wipe it clean using a mop. It is also fine for bedrooms, lounges, dining rooms and conservatories.
Pros: Easy maintenance, easy to keep clean, hard wearing, looks good, slip resistant.
Cons: Can be cut with sharp implements.
LVT flooring
LVT stands for luxury vinyl tiles. The most well known b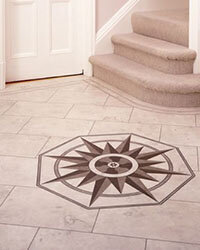 rand of LVT flooring is Amtico, with two other leading brands being Kardean and Victoria, but more and more manufacturers are joining the market as this is one of the fasting growing sections of the flooring industry at the moment.
Why are LVT floors becoming so popular? An LVT floor is a designer floor. It looks absolutely gorgeous and will make a fantastic impact on you, your family, friends and visitors. It is limited only by your own imagination and allows you to be as creative as you want to be. If two people buy LVT floors, they will look completely different, because you choose your own design. For example, you can add borders and motifs to it, or change direction of the strips – it really is limitless.
Not only do LVT floors look fantastic, but they are also minimal maintenance, extremely hard wearing and easy to keep clean. In fact, many leading high street stores have used LVT floors over the years because it wears so well. You would expect an LVT floor to look as good as when it was first put down after 25 years, and they only require a mop to keep them clean.
Another benefit of LVT flooring is that there is no room in the house where they can't go. Unlike wood floors they are ideal for bathrooms, kitchens and wet rooms, and they make a fantastic impact in lounges, dining rooms, conservatories and bedrooms. As with all floors that aren't carpet, an LVT floor is hard and will be cold on bare feet, so you might want to consider having under floor heating with it, particularly if laid in the bedroom.
The only downside of an LVT floor is the price. If money was no object, then probably everyone would choose an LVT floor because it is such a fantastic product. However, if you're spending a lot of money on a room, then you shouldn't neglect the flooring. If you have spent money, time and effort to make a room look fantastic, then an LVT floor could really be the icing on the cake.
"If you've just spent £20,000 on a kitchen, you should be prepared to spend £2000 on a floor for it. If you've bought a Rembrandt, you don't take it down to Speedy Frame."
It can often cost more than you might expect because it is not an easy floor to fit. It can require a lot of subfloor preparation, which is paramount. Price can vary, as is the case with all flooring, so it is important to discuss your individual needs and circumstances with an experienced and independent floor salesman.
Pros: Designer floor, wow factor, unique, versatile, minimal maintenance, hard wearing, easy clean, works with under floor heating
Cons: Cost, subfloor preparation required, hard, cold.
---
---