LVT flooring: a luxurious choice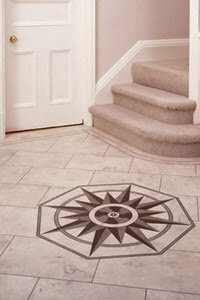 What is LVT flooring?
LVT (which stands for Luxury Vinyl Tiles) is a designer floor which makes an instant impact on your home for yourself and your family, friends and visitors. You can choose your own design for LVT so you can make it completely your own by customizing it with motifs or borders and you can even change the direction of the strips.
The fitting of an LVT floor can be quite complex, requiring quite a lot of subfloor preparation, which sometimes makes it a more expensive choice than other types of flooring, but the result is a hardwearing, luxury floor with a tough surface that you can expect to last a very long time.
Why should you choose it?
LVT floors look very impressive and are often chosen by high street stores due to the options for customisation and the fact that they last so well. Its durability and hard wearing nature means that it can resist most damage and wear and tear.
When it comes to maintaining LVT you'll be happy to know that this kind of flooring is very easy to take care of. All that's needed is a broom or a mop - however, you should be wary of using bleach, washing up liquid or other household cleaners.
You have plenty of options when it comes to choosing which room to put LVT in – it's very versatile and it can come in a variety of styles including wood and stone. LVT works well as flooring for corridors, dining rooms, living rooms, studies and even bedrooms if you are looking for an alternative to carpet. But it's also ideal for areas like the kitchen and bathroom where spillage might occur, as it's waterproof and can be easily cleaned.
To find out more about LVT flooring as well as other types of flooring, you can read our article, here: http://www.lincolnshireflooring.co.uk/articles/guide-to-different-types-of-flooring.html