Getting to grips with wooden flooring: a jargon guide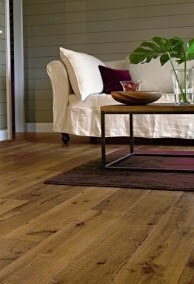 Wood flooring: an overview
Natural, warming and organic are all words that spring to mind when thinking of wooden flooring. It's a popular choice for homeowners due to its unique style, its organic nature and the fact that it fits in with almost any decor. If you've settled for wooden flooring then here are some key terms that can help you to understand more about what you're buying.
Adhesive is the glue used to keep floor boards together. Some adhesives are only applied to the tongue and groove i.e. in the case of floating floors. Others are applied to the subfloor creating a direct stick.
Bevelled edges are when a floor boards edges are sloped downwards to give them a more natural look.
Click-lock system planks - these types of planks click and lock together and are a quick and easy method of fitting a floor.
Damp proof membrane is a barrier that protects against moisture from the ground which could potentially harm subfloor and floor boards.
Engineered wood flooring is flooring that is made of multiple layers of wood bonded together (e.g. Plywood) which is finished with a top layer of a particular species.
Expansion gaps allow for expansion of wooden floors in humid areas as naturally occurs. Wedges and spacers can be used to create expansion gaps.
Hardwood flooring is dense, hard, strong and heavy flooring and is made from deciduous trees. Typically popular at the moment are oak, ash, cherry, beech and walnut.
LATEX is installed under flooring to create a smooth & level surface.
Scotia or Quadrant is the beading used at the perimeter of the flooring to cover the expansion gap.
Subfloor is the foundation for a floor in a building i.e. concrete.
Underlay creates extra thermal resistance and exists between the subfloor and the wooden floor.
To find out more about wood flooring as well as other types of flooring, you can read our article, here.