The early years of Lincolnshire Flooring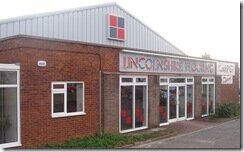 A previous blogpost (which can be viewed here) told the story of how Lincolnshire Flooring came into being. We now continue that story to look at the early years of Lincolnshire Flooring.
Tony Jefferson, the founder of Lincolnshire Flooring, had three sons, one of whom was current Managing Director Graham Jefferson. Graham worked for British Home Stores, where he was trained, and his last post was at Colchester. Whilst there, all but three members of staff were dismissed, and as a result Graham became Assistant Manager. There were profit and morale problems, so Graham stayed there for 14 months until the problems were resolved, and then started working with his father at Lincolnshire Flooring.
At this point, Lincolnshire Flooring was only doing supplying the contract sector – hospitals, schools, prisons, camps etc. but as Graham's background was in retail, he opened a retail side to the business. This was based at Gresham Street in Lincoln and offered a professional and friendly service to the general public. Tony Jefferson retired from the business shortly after Graham joined, and Graham's brother soon joined him. Lincolnshire Flooring has very much a family feel, with Graham's son joining the business 6 years ago, and his brother's son joining the business last summer.
15 years ago, Lincolnshire Flooring moved to its current site on the Outer Circle Road in Lincoln. The showroom offers easy viewing in pleasant surroundings. The site is easy to get to, has free parking and is open from Monday to Saturday, from 8.30am on weekdays and from 9am on Saturday. It closes at 5pm on Mondays, Wednesdays, Fridays and Saturdays, and is open until 7.30pm on Tuesdays and Thursdays. If you would like to contact Lincolnshire Flooring, or would like driving directions for how to find us, visit our contact us page.