How Lincolnshire Flooring came to be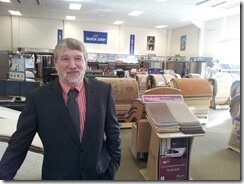 Following on from our previous introductory blog post, we wanted to provide a brief history of how Lincolnshire Flooring came to be.
The history of Lincolnshire Flooring starts in 1956, when Tony Jefferson, father of current Managing Director Graham Jefferson (pictured left), stopped working at the engineering company Ruston-Bucyrus Ltd and started work at the National Flooring Company. He was offered "nine and a half" to do that, but didn't know what exactly that referred to! It could have been nine and a half pounds per week, or it could have been nine and a half thousand per year! Graham was only one year old at the time. His father initially started by running the Lincoln branch of the National Flooring Company, but soon went on to open branches in York, Sheffield, Manchester and Liverpool. He took on many major flooring projects, including the Blackpool Ball Room and many of the RAF camps in the county that gave it the name "RAF Lincolnshire".
Tony Jefferson had therefore spent 10 years working at the National Flooring Company by 1966, and had acquired a huge amount of knowledge and experience in terms of the flooring business. However, that year, Tony felt that the National Flooring Company was in a mess – head office were not paying bills, and worried that it was going to go into receivership, Tony Jefferson left the National Flooring Company to set up on his own. He founded the business that is still today Lincolnshire Flooring.
Today, 46 years on, Lincolnshire Flooring is Lincoln's premier independent flooring company. We now offer our services to most of Lincolnshire, including Lincoln, Newark, Sleaford, Woodhall Spa, Louth, Horncastle, Gainsborough, Boston and Scunthorpe. These services include carpet, laminate and wood flooring. Future blogposts will look at how we got to where we are today and the services we have come to offer over time. In the meantime, if you wish to contact Lincolnshire Flooring, please give us a call on 01522 524374, drop us an email at sales@lincolnshireflooring.co.uk, or visit our show room on Outer Circle Road, Lincoln, where our friendly and experienced staff will be happy to help you.