Tips for matching up carpets and furniture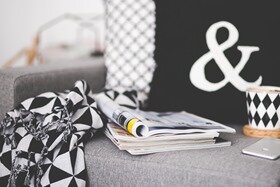 When it comes to decorating a room, the choices are endless. From the paint you choose for the walls to the colour of your blinds and the shape of your cushions, there are a great many elements to play around with. However, one of the most confusing aspects of interior design can be choosing complementary colours. Here we offer up some helpful tips on how to find a carpet and piece of furniture that work well together.
You should begin by choosing your carpet, and then work other elements such as fabrics, paint and wallpaper around it. While your own personal taste and preferences should play a major part in what colour carpet you go for, there are some ground rules that you need to observe.
When it comes to choosing colours, you need to think carefully about the room you are carpeting. If it's a room that experiences heavy traffic, for instance, then you might want to avoid a carpet colour that is too light and might start to look dirty and worn over time. Instead you can help mask the heavy use by choosing a warmer, darker colour. Equally, you will need to think about how the room will be used. A dining room for example might not be the best fit for a cream coloured carpet, as food and drink could easily be spilled on it and it could become stained.
You should also think about the psychology of certain colours. Different shades and tones can drastically alter the way that we feel when we are in them. Cool colours like blues, greens and purples can have a calming effect on a room, so if you are decorating a bedroom they can be a good option to help you unwind and fall asleep. Equally, warmer colours such as reds, yellows and oranges are great options for making a room feel cosy. The way you use those colours is entirely your choice. You might find that you want to use a ruby red carpet, or equally you might want to have a neutral carpet and introduce a 'pop' of colour through a red sofa instead.
How you mix up the colours in your room is entirely your choice and there are no right or wrong options. It all depends on your preferences and the style that you want to go for. A good place to start if you are struggling to picture how your room might look is to take a look at home/living magazines or browse websites such as Pinterest which often display good examples of interior design. If there is a particular colour that you have your heart set on, then a colour wheel can help you find complementary colours to match up your furniture.
If you're ready to hunt for a new carpet then our team at Lincolnshire Flooring can help you to find exactly the right product, talking you through the pros and cons and allowing you to get an idea of how it might look and feel inside your home. If you would like advice on picking out a suitable flooring, then please visit us at our showroom or call us now on 01522 524374.