How Safety Flooring Can Protect Your Employees from Accidents at Work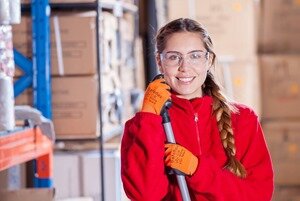 Did you know that slips and trips are the biggest cause of accidents in the workplace in the UK? According to the Health and Safety Executive (HSE) they cost UK businesses as much as £500 million each year and because of this they advise businesses to follow strict guidelines to prevent and cut down on the number of incidents.
Slips, trips and falls can cause a whole range of injuries to employees. From broken bones and whiplash to serious long-term injuries. In the short term your employees may have to take days off work for treatment and recovery, however more serious injuries could lead to them taking multiple-sick days or even having to leave their job entirely. Not to mention that if you are found to be at fault for the accident and to have failed in your duty of care under the Health and Safety at Work Act (1974) that you could also face legal and financial consequences.
While slips and trips can never be completely eradicated from the workplace there are practical steps that you can take to reduce the risk. Small actions like ensuring employees are fitted out with appropriate footwear, that any spills of liquid are quickly cleaned up, and that aisles or workways are clear of obstructions are a good place to start. However, one of the key ways that you can prevent slips and trips is to choose practical flooring.
How Safety Flooring Can Help
Sensible flooring should be at the core of any businesses Health and Safety plans. If you choose the wrong type of flooring, then you could make the problem of slips and trips even worse. One of the key choices that we recommend to many businesses in the commercial sector is safety flooring.
Safety flooring creates a strong connection between foot and floor which reduces the chances of slips. This is because the makeup of safety flooring is jagged and contoured which increases friction underfoot. There are strict regulations and standards in place when it comes to the term safety flooring and a floor cannot be recognised as safety flooring if it fails to meet specific measures of slip resistance. Safety flooring sometimes also has safety particles and other aggregates such as aluminium oxide, silicon carbide and quartz incorporated to improve wet slip performance by increasing the overall tread of the flooring. A good safety flooring will have these aggregates throughout the flooring as opposed to just the top layer, which will mean that even as heavy foot traffic wears the floor down with time, it will still retain its benefits helping to maintain foot/floor contact and reduce the chances of an accident.
The world of safety flooring can be complex but here at Lincolnshire Flooring we have the expertise and know-how to help you on your way. We have been installing commercial floor coverings for over 50 years, carrying out contracts of values up to £200,000. For a no-obligation quotation and to discuss your needs, please call us on 01522 524374 or visit our popular showroom at Outer Circle Road, Lincoln, LN2 4HU.