The secrets of choosing carpet colours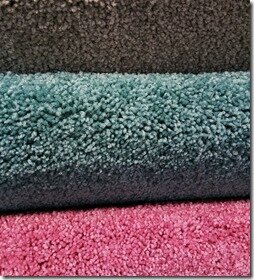 Soft, comfortable and warm under the foot - carpet is one of the most popular options when it comes to domestic flooring. While hardwood flooring gets a fair amount of attention too, carpet retains its reputation for comfort, style and durability. It's also available in a variety of colours, patterns and textures and can match varying budgets so there are lots of options available to you to choose from.
In terms of the way your carpet looks, rather than the way it feels, one of the key decisions that you will need to make is about the colour, provided that you have chosen a plain colour carpet over a striped carpet or a patterned carpet that is. Here we will offer some words of advice when it comes to making a decision.
Many people are surprised just how much of an impact the colour of a carpet can have on a room. For small, pokey rooms, choosing a dark coloured carpet will make your room appear even smaller, while choosing a light-coloured carpet will make the most of any natural light and allow the room to feel more spacious. However, if a room is quite large and feels cold and clinical then you may want a dark, rich coloured carpet which can help it to feel more snug. This can be particularly effective if you tie in this selection with the colour of the walls in your chosen room.
Foot traffic is another consideration you need to make when choosing your carpet. Some rooms naturally get more people (and animals) passing through them than others. This movement can over time erode the fabric of a carpet and can also make the carpet become discoloured with muck and grime. With this in mind, it makes very little sense to opt for a lightly coloured carpet in a heavy traffic room if you have a busy home. Instead, you should opt for a darker hue which can mask some of the dirt that has made its way on to the carpet.
The traffic level that the room will receive should be an important consideration. For a room that has a lot of traffic, a darker colour may be best because it will hide the build-up of dirt. This is especially important if you have young children or pets.
Another important consideration to make is the furniture and furnishings of the room. You will need to think about how your carpet will work with your sofa, your curtains, the colour of your walls and other items in the room. If you're planning on starting from scratch then your carpet can be a foundation on which you choose everything else, but if you've already got furniture and furnishings then you might want to tailor your choice towards the overall colour scheme.
There are also practical considerations to make regarding the colour of your carpet. For instance, if you are choosing flooring for a family room, where children play, the dogs spend a lot of time and there is often food or drink about then choosing a cream carpet might be a bad idea. Instead you might want to opt for a darker carpet which is less likely to show blackcurrant stains for years to come.
If you're unsure as to which type of flooring would be most suited to your needs, then you should seek the advice from flooring professionals. Our team at Lincolnshire Flooring can help you to find exactly the right product, talking you through the pros and cons and allowing you to get an idea of how it might look and feel inside your home. If you would like advice on picking out a suitable flooring, then please visit us at our showroom or call us now on 01522 524374.