5 home decoration apps that you need to try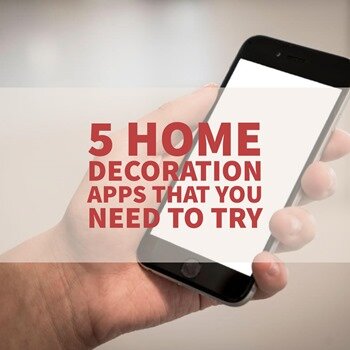 Smart phones come in handy in almost every aspect of our lives these days and home decoration is no exception. Here we list five of our favourite apps that can help you to spruce up your home.
Pinterest
Pinterest is used by millions of people to find inspiration. From fashion and food to clever interior design ideas, it's a great source of unique and interesting ideas. If you struggle to visualise what colours and textures may work well together, Pinterest is a good place to start.
SnapShop
If you're in the market for new furniture then this app is a must-have. SnapShop takes the guess work out of measurement. To get started you simply take a photo of each room in your home. Then when you find a piece of furniture that you like you simply snap it and the app works out whether or not it will fit in your room, and around your current furniture by overlaying it.
MagicPlan
Available on both iPhone and Android operating systems, MagicPlan is a one stop shop for floor plans. Using your camera you can measure the dimensions of each room in your home and create an accurate floor plan that can be kept in your pocket and brought out when you need to make a purchase of say new furniture or flooring for a room.
Color Capture
Ever seen a shade of paint somewhere that you've fallen in love with but not had any idea what the name of the colour is? This app can help. Color Capture matches colour from your chosen photograph and then suggests paint options to match. It will also suggest other colours which it thinks may nicely complement the one you have chosen.
iHandy Carpenter
If you come up short when it comes to a tool box then this app could be your best new friend. Instead of spending money on tools that you might never use again this app gives you some of the most commonly used measuring tools you might need such as surface levels, steel rulers and plumb bobs.
While all of these apps are useful they can only take you so far. If you're looking for new flooring in your home then look no further than Lincolnshire Flooring. Our team can guide you through the entire process of carpet or floor fitting from site surveys and measuring services to selecting and installing a wonderful new floor. To find out more please call us on 01522 524374 or call in at our showroom on Outer Circle Road, Lincoln – Monday to Saturday.