4 ways to spruce up your office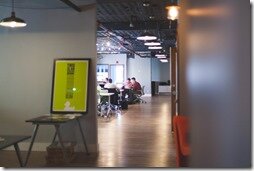 What does your office say about your business? Whether you like it or not the appearance of your business headquarters has a profound effect. Not only does it make an impression for better or worse on customers and clients but it also deeply affects the morale of your employees. Precisely why forward thinking companies like Google put such an emphasis on creating inspiring work environments. However, mini-golf, rooftop gardens and sleeping pods don't suit everyone and your business may benefit from some rather more subtle touches. Here are four ways to make a positive impact on your office space.
1 – Bring the outdoors in
Studies show that making room for plants and flowers in your office can have an impact on their stress levels, helping them to relax. A study conducted by NGI Australia showed that staff who had plants placed in their office showed reductions in levels of stress and negative feelings of a magnitude of 30 to 60% in a period over three months – quite a significant finding. They claimed reductions in tension, anxiety, depression, dejection, anger, hostility and fatigue – all emotions that most businesses would agree are harmful to productivity!
2 – Ditch traditional office furniture
It's fairly common knowledge now that remaining sedentary at a desk is no good for our employees. A recent Loughborough University study found that when compared with people who work away from office environments, those of us hunched over desks have a 112 per cent increase in risk of diabetes and we are twice as likely to have a heart attack. No one wants their employee's health to suffer from their job, which is why many businesses are finding ways to keep their employees healthy from height adjustable desks, to treadmill desks and active chairs shaped differently to promote good posture.
3 – Light it up
Good lighting is another key to raising the productivity of your employees. A work space that is dingy and dim, or equally is too bright and artificial will be off putting to your employees. Try to make the most of the natural light in your office and consider light colour schemes which create a sense of spaciousness in your office.
4 – From the ground up
Finally, one of the best ways to spruce up a tired looking office is to have new flooring installed. Whether replacing that old threadbare carpet, or installing a timeless hardwood flooring, changing what's beneath your feet can have a big impact on both employees and clients visiting your office. However, it's important to not only consider the visual aspect of your flooring choices but also to think about how easy it is to clean, how resistant it is to scratches, how well it dampens sound, how long it lasts and of course how much it costs.
If your offices are looking tired and in need of a refresh then you should seek advice from flooring professionals. Here at Lincolnshire Flooring we have been installing commercial floor coverings for over 50 years. For a no obligation quotation please call us on 01522 524374 or take a further look around our website for more information: http://www.lincolnshireflooring.co.uk/commercial/.