Incredible flooring tricks to make your rooms appear larger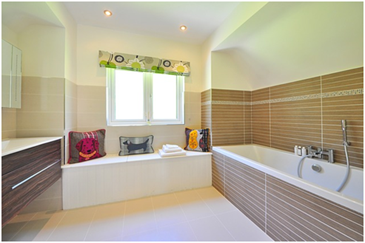 It's very rare for anyone to find a home that is completely suitable. Whether it's one less bathroom than you wanted or a living room that just doesn't feel big enough, we almost always have to compromise in some way. However, if you're stuck with a living room, bathroom, bedroom or kitchen that just feels way too small, there are a few tricks that you can employ to open up the space. Here we will look at how flooring can help play its part in creating a spacious atmosphere.
Use large tiles
When Estate Agents offer tips to home owners on making their homes ready for viewing day, they generally suggest that you shouldn't have any small items on tables or mantelpieces as it clutters up the room and distracts the eye from the rooms best features. The same goes for tiling. The smaller the tiles you select, the more grouting will be visible around the room distracting the eye and making the room feel crowded. By selecting tiles that are larger than the standard 12 inch, you can make your bathroom, kitchen or hallway feel much larger than it is.
Use wide planks of wood and lay them strategically
Wooden flooring can also be used to your advantage. Next time you walk into someone's house and you notice they have a wooden floor, take a moment to look at how the planks are laid. Occasionally you may see that the planks are laid in an unusual way – at a right angle. By laying beams at right angles beginning on the longest side of the room, you work with the room's natural features to make it appear more spacious than it is. Similarly to tiles, you can also select wider surfaced beams to achieve the same effect.
Keep a uniform theme
Another way that you can really open up a room is to adopt a uniform theme throughout. This means ensuring that the flooring is consistent; all the same shade and free of rugs and mats. This fools the eye into thinking there is more space than there really is.
While you might not be able to afford an extension on your home just yet, using some of these flooring tricks can at least make it feel as if your home is larger.
For more information on choosing flooring for each room of your home please refer to our full room by room guide by clicking here, visit our company showroom on Outer Circle Road, Lincoln, or give us a call on 01522 524374.