What's the best type of flooring for a hair salon?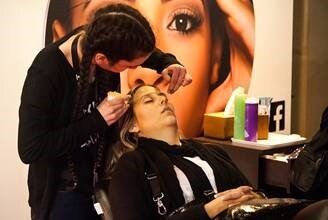 When it comes to choosing flooring for a hair salon there are a few key factors in making your decision. You will need a type of flooring that looks good, is safe, easy to clean and durable among other things. Here are some of the flooring options available to you for your hair salon or barber shop.
Hardwood Flooring
Many barber shops and salons are going for a stripped back, rustic design for their shops and this means that many are choosing organic and natural materials like wood to fit-out their shops. Solid wood flooring has an instant impact on visitors to your salon and leaves a strong impression.
One potential downside to hardwood flooring is that it can scratch quite easily, so if you think that your salon chairs or customers might leave scratches on the floor then you might want to consider an engineered wooden floor which has a thicker top layer. The thicker top layer of an engineered wooden floor is able to be sanded down to make scratches disappear.
Another downside with hardwood flooring is that although it can be brushed, the gaps could allow for a build up of cut hair, which might then be difficult to remove and clean.
Vinyl flooring
Another popular option for salons and barber shops is vinyl flooring. Not only does it look great but is probably the easiest type of flooring to maintain, making cleaning away hair from sticky floors a doddle. It's also comfortable underfoot which is important for your staff who may often spend long periods of time on their feet.
Carpet
Every business is different but in general you should try to avoid carpet in your salon. This is because loose hair will require vacuuming away and can't be swept away like on vinyl, tile or hardwood floors. It can also prove to be a headache should you spill hair dye or accidentally burn the carpet with hair straighteners.
Tile Flooring
Tile flooring is a popular hardwearing choice for salons and barber shops, as it is easy to clean and long lasting. However, poorly fitted tiles can sometimes begin to 'lift' which could become a Health and Safety hazard for both your staff and your customers.
Here at Lincolnshire Flooring we have been installing commercial floor coverings for over 50 years. For a no obligation quotation please call us on 01522 524374 or visit our website for more information: http://www.lincolnshireflooring.co.uk/commercial/.