The truth about dogs and solid wood floors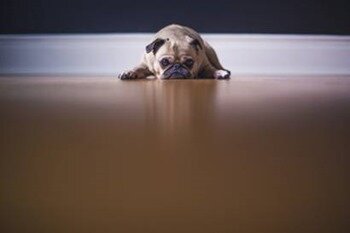 It's a common dilemma - you want all the perks of a warm, authentic wooden floor but you're worried that your dog may slip and get hurt, or might ruin an expensive floor with their scratches and scuffs.
The truth is that sharing a home with a dog often means that you have to make sacrifices; this could be sacrificing your time to take them for a walk and give them attention, sacrificing money for their dog foot and vet bills or perhaps the type of flooring that you can have in your home.
Every type of dog is different and while some dogs will move quite slowly, others will launch themselves around in excitement. The fear with solid wood flooring is that they can slip and hurt themselves as they launch themselves with their back legs which may then slip out from under them. This could result in injury for the dog, such as pulling a muscle.
The other common fear is scuffs and scratches which can be caused by dog's claws as they move around your wooden floor. Natural wood can be quite susceptible to marks such as this.
So what are your options? Well first of all you might want to consider an alternative to solid wood flooring as other types of flooring can replicate the same look but offer more protection for your dog as well as protection against scuffs and scratches.
One example of this is laminate flooring which does an excellent job of mimicking wood. Laminate is often more resistant to scratches and is very low maintenance when it comes to cleaning – so you can easily clean up after a dog that sheds its coat. Another great alternative is LVT flooring, which is also a good choice if you are looking for a scratch resistant floor which replicates the textures of wood.
Tile is often popular with dog owners. They are very tough so aren't very comfortable under your pet's feet but they can be cleaned easily and are highly resistant to scratches. Whilst you might not want them in the main room of your home, they help to create a buffer zone in your utility room or entrance hall.
Of course if you are willing to go for something entirely different to wooden flooring then you could always look at vinyl flooring or carpet which are both very comfortable underfoot and can take more punishment from your dogs' claws.
Finally, if opting for a different kind of flooring is a step too far for you and you're determined to have a solid wooden floor installed in your home then you might be able to make it work by making sure that your dogs nails are kept trimmed and rugs are put down in places where they might launch themselves from.
Click here to read our article "A guide to the best flooring for pets" for a comprehensive guide to the best options of flooring available for your home, or alternatively come and talk to us at our showroom on Outer Circle Road in Lincoln.