3 ways to pet-proof your new floor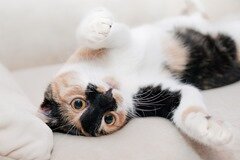 Our pets are our best friends but they sure do know how to make a mess - dragging their rear across the carpet, scratching floors and causing general chaos in our homes. When you've spent time and money finding the perfect flooring you want to be able to protect it. So, here are some tactics that you can use to help preserve your carpet against some of your pets more destructive tendencies!
Create a buffer zone
One approach to take to deal with the problem of messy pets is to create a buffer zone between your front or back garden and areas of your house that might have delicate flooring such as carpet or wooden floors where mud, grit and dirt could wreak havoc.
This could either be a simple mat, a rug or a different form of flooring such as tile which is more resistant to dirt.
You should also make sure to give your dog or cat a dry with a towel if it's been raining while they've been outside to avoid that "wet dog" smell in your home.
Protect your cat's claws
Some people suggest that if your cat tends to leave lots of scratches in carpets, floors, and furniture that you should consider cat claws. Cat claws are plastic caps which are fitted, usually by a vet, to a cat's claws making them less dangerous. However, all cats are different and you may find that they don't enjoy having the claws on and that they feel uncomfortable – if in doubt seek out your vet for their advice.
Dinner time
When it comes to keeping your pets fed and watered you need to make sure that you have a mat in place under their food and water bowls. This can stop any liquid seeping into your flooring and damaging it. Some flooring such as laminate can be very susceptible to water damage, so it's important to protect against any splashes.
For more information about choosing the right flooring for your home if you have a pet, click to read our article, or visit us in store on Outer Circle Road in Lincoln.