What's the best type of flooring for a commercial kitchen?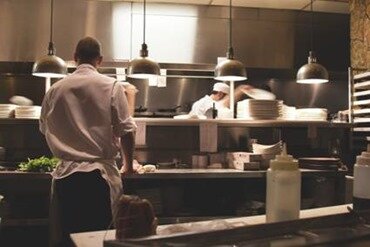 When it comes to commercial kitchens, the most important factor is always going to be hygiene, closely followed by durability.
Restaurants and commercial kitchens are among some of the most demanding environments for flooring. Constant heat, humidity and movement mean that flooring must be carefully selected. So, what's the best flooring to choose?
The flooring for a commercial restaurant needs to meet many different criteria. First of all the floor needs to be durable as the expense and time involved in laying down new flooring to replace old damaged flooring could be costly to a business, especially when considering the downtime that could be involved.
Secondly, the flooring must be hygienic and meet all the relevant HSE and EU regulations. This means that it needs to be easy to clean and properly fitted. A floor which is not easy to clean is not only a breeding ground for bacteria and dirt but will also be a nuisance for the staff who have to clean down at the end of a long shift.
The flooring must be able to withstand high temperatures and the humidity associated with a busy kitchen, so it shouldn't take in any moisture or begin to crack like some types of flooring do.
This criteria all points towards one key type of flooring and what is often the most popular form of flooring for busy commercial kitchens and restaurants: vinyl.
Vinyl is a strong, durable and low maintenance form of flooring. It is very resistant to high temperatures and will not take in any moisture, ensuring its longevity and making it an enemy of bugs and bacteria, especially is it so easy to clean.
Of course, flooring in kitchens needs to be fitted extremely well. It should be finished and installed well so that no gaps are left for build-ups of debris from food, moisture or spillages. It should also be installed with an underlay ensuring comfort and underfoot cushioning for the busy chefs of your restaurant.
For more information about choosing appropriate flooring in commercial settings, please click here to read our free online guide.