How flooring helps create a cook-friendly kitchen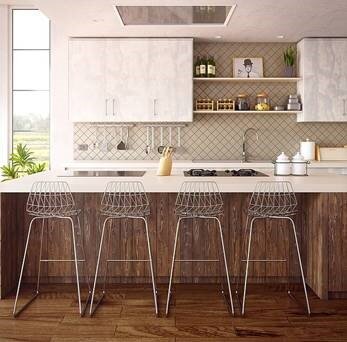 If you're planning to remodel your kitchen then there are lots of things that you will need to consider, and flooring is one of them. However, despite it being extremely important, it is often the aspect that is most overlooked.
Today, kitchens aren't just the place that we cook our meals. They also act as a hub for the home, the place where we catch up on each other's days, reluctantly do homework, eat meals together, relax with a glass of wine. Kitchens aren't just a key room for humans either – they are often the main home for our pets. The uses for the modern kitchen are therefore almost endless. However something that hasn't changed in recent years is the idea of making your kitchen as comfortable as possible for whoever is designated chef that particular meal time.
Comfortable flooring
When creating a friendly working environment in your kitchen, flooring should be one of the first things you think about, not the last as is so often the case.
While hard flooring such as stone, ceramic and tile can often look great in the right kitchen they also aren't the most forgiving, not only on expensive cutlery but also on your joints, on bare feet or on little hands and knees if you have babies, toddlers or young children.
So if you want to avoid replacing broken glasses and plates and would prefer something softer and gentler underfoot then there are some great options available.
Here at Lincolnshire Flooring we recommend vinyl flooring for its minimum maintenance and hard wearing properties. It makes it very easy to clean up all of the inevitable spills and stains that will happen in a kitchen. Luxury vinyl tiles are also a great choice and offer a great way to incorporate a high impact and designer style floor into your home. Like vinyl flooring it is also low maintenance, resistant to most of the things that life in the kitchen will throw at it, and as a result will still look great many years down the line.
Wood is not a good choice for a kitchen but less for comfort and more the fact that kitchens tend to have high humidity which can cause wooden flooring to gain volume, expand and then shrink – ruining your floor.
The work triangle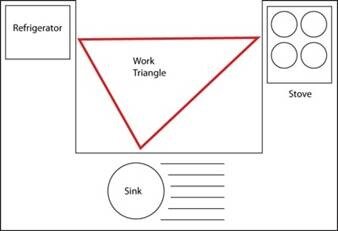 Once you have sorted out your choice of flooring, you can then start to think about the layout of the kitchen that is going to go on top of it! Over 70-years ago the idea of the 'work triangle' began popping up in kitchen planning circles. This idea talks about how important it is to reduce the distance that a cook should have to travel between the prime working areas of the kitchen, making it much easier and quicker to prepare meals. This is achieved by having the 3 key elements of refrigerator, stove and sink close enough so that 'wasted steps' are reduced, making the kitchen more efficient.
Of course, in those days kitchen appliances were much larger and kitchens were smaller than they are now. Today's appliances can be far smaller and our kitchens much more open plan. However, the idea still remains that we should try and split our kitchens up into key areas, and that these key areas of the kitchen should be grouped together for ease. For example an area for food stuffs, an area for plates and cutlery, an area for cleaning, an area for preparation and an area for cooking.
To find out more about choosing the perfect floor for your kitchen then take a look at our room-by-room flooring guide, where we explain the pros and cons of each different type of flooring for each room of the house. Alternatively, pop in to see us on Outer Circle Road in Lincoln, or give us a call on 01522 524374.