Lincolnshire Flooring backs local health project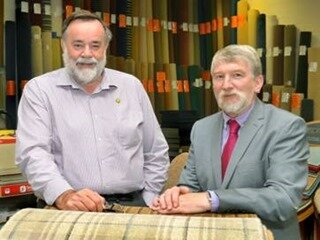 Lincolnshire Flooring is very pleased to support the work of SHINE, an award-winning mental health support network for Lincolnshire. SHINE is supported by funding from the Mental Health Promotion Fund and works to help people who are at risk from or in recovery from mental illness.
One of the ways that SHINE does this is through its Staying Well programme. Explaining what the Staying Well programme is, SHINE Director Charles Cooke said: "Staying Well is making a real difference to people's lives. Since its launch in 2012, the programme has supported around 200 people.
"The initiative is funded by Lincolnshire County Council, through the Lincolnshire Partnership NHS Trust's Managed Care Network for Mental Health, of which SHINE is a part. We use this funding to buy essential goods, which may help people to set-up home, get back to work or tackle problems of isolation.
"Businesses play a key role in our efforts, by agreeing to supply goods or services at discounted prices and because they want to give something back to society."
Lincolnshire Flooring is one of the local companies currently supporting SHINE's Staying Well programme. Explaining what they do to support the programme, Lincolnshire Flooring Managing Director Graham Jefferson said: "Sometimes, because of the sheer volume of work that we do in relation to a new development, we get a line fault in a carpet where a row of tufts may be shorter or longer than the rest.
"Alternatively, we might get a situation where a piece of furniture has made an indentation in a carpet and the customer doesn't want it, or a builder may ask us if we can switch a carpet, which isn't quite the shade of beige (a popular colour) a customer thought they were getting.
"In all these cases, a manufacturer doesn't want the carpet back but, because it is essentially still new flooring, we are happy to sell it at a heavily discounted price to SHINE. It is good to know we are also making a difference to someone's life."
Explaining how the support of Lincolnshire Flooring and other companies helps people with little or nothing to stay mentally healthy or to get back on their feet after going through a tough time, Mr Cooke said: "For many people the essentials they need to help them to get back on their feet are furnishings and appliances, but we have also paid for childcare to tide someone over during a difficult period and even offered the loan of a computer."
One example of this is Ian (not his real name), who suffered depression and psychosis, arising from childhood abuse and his psychologist identified that this was being made worse by sleeping in a single bed, which brought flashbacks and triggers for deepening depression. The programme was able to provide a double bed and bedding for Ian.
He said: "Staying Well allowed me to maintain my mental well being as I needed to ensure that I was in a safe place and my bed was a reminder of past abuse. The new bed allowed me to be free of that."
Society disables people with mental illness, but the SHINE network aims to help those with mental health problems to achieve the best possible quality of life – by connecting them to the services and support that will most effectively meet their needs.
Any individual, user-led or carer-led group can join the network, as well as volunteers, social enterprises, public sector organisations and commercial businesses. SHINE get referrals from health or social care agencies, which are easier for them to process, but they are also happy to consider self-referrals. For more information, please visit: http://www.lincsshine.co.uk/
SHINE needs more businesses to back its work. Any other business which would also like to support the Staying Well programme can contact Charles Cooke on 07969 875464.
Lincolnshire Flooring is Lincolnshire's premier independent flooring company. Based on Outer Circle Road in Lincoln, the company showroom offers easy viewing in pleasant surroundings with a comprehensive selection of flooring to choose from, including carpet, laminate, wood, vinyl and LVT flooring. For more information, please visit www.lincolnshireflooring.co.uk/.