Which type of flooring should you choose for an office?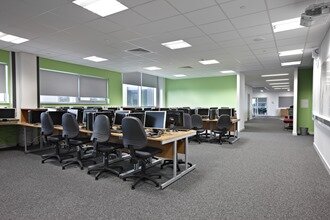 In our previous article on commercial flooring we took a look at the different types of flooring available to businesses and the various pros and cons of each particular one. In this blog we will take a look at the best available options for commercial flooring in offices.
Although picking flooring for your office can come down largely to taste, there are other elements that you should firstly consider. For example, practicality, comfort, branding and durability can all play a significant role. It's also important to remember to check whether or not the flooring you are purchasing is castor chair proof, otherwise you might end up with unpleasant scratches across your floor.
Carpet
Carpet is a popular choice for office environments and it's easy to see why. Beginning with installation, carpet is generally quite easy to fit compared to other types of flooring and it's particularly durable so you should expect it to last a long time. It's a warm, insulating flooring which can help protect against the cold and it also dampens sounds, which means workers are less likely to be distracted by moving chairs and footsteps. It is also available in a wide variety of colours, patterns and designs, meaning that you have plenty of choice and can easily choose a carpet to match your company's branding if you wish to. Carpet is also often regarded as the luxurious option, so it can look impressive when you have guests or clients visiting your offices to have a good quality carpet.
Carpet Tiles
Carpet tiles have many selling points. They are easy to transport, easy to install and don't require an underlay to be fitted beneath them. They are durable and if they are damaged, for example with spilled coffee or a faulty office chair caster, then you can simply replace the tiles that are damaged without having to replace the flooring in the entire room or on the entire floor. This can save a business a great deal of time and money and prevent a lot of upheaval and disruption. As with regular carpet, carpet tiles provide a comfortable and warm surface for your workers and visitors to enjoy, and are available in a wide variety of colours and designs to match your office or your company's branding
Wooden flooring
A stylish alternative to carpet is wooden flooring. Both solid wood and engineered wooden flooring are potential options when it comes to offices. Engineered flooring makes for a better option if you expect that there may be high moisture levels in your subfloor. Solid wood flooring is incredibly strong so if you expect a high foot-fall or lots of stress on your floor then solid wood flooring is preferable over engineered wood flooring. However, if you want underfloor heating in your office, then you will need to choose engineered wood rather than solid wood. A potential downside to wooden flooring however is that it will scratch. If you don't want your office floor to scratch then you may want to consider laminate or LVT flooring as an alternative hardfloor.
For more information about choosing appropriate flooring for commercial settings, please click here to read our online guide.