Lincolnshire Flooring launches new commercial flooring section of website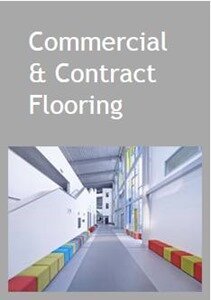 Lincolnshire Flooring is delighted to have launched a new commercial and contract flooring section on our website. From now on, when you visit www.lincolnshireflooring.co.uk you will first see a screen offering you two options – flooring for your home, or commercial and contract flooring.
Whilst the section of the website is new however, the service is not. Lincolnshire Flooring has been installing commercial floor coverings in Lincolnshire and the surrounding areas for over 50 years, but until recently the website has only reflected the services we offer to the domestic market. In fact, Lincolnshire Flooring offered commercial and contract flooring long before it offered flooring to the domestic sector.
The company was founded by the father of current Managing Director Graham Jefferson. Tony Jefferson used to work at Ruston-Bucyrus, where he was approached by a company called National Flooring who asked him if they would like to run the Lincoln branch, which he agreed to in 1954. Over the next decade he opened branches for them in Sheffield, York, Liverpool and Manchester, and they were doing jobs like laying flooring in Blackpool Ballroom Tower, Hammersmith Palais and Glasgow Tax Office. But by 1966, National Flooring was in financial trouble, the receiver was called in, and Tony bought the Lincoln branch off of the receiver. So Lincolnshire Flooring was formed in 1966 and traded accordingly from there. It was only when current Managing Director, Graham Jefferson, joined the company in the 1970s with a background in retail did Lincolnshire Flooring actually start selling to domestic homeowners.
Lincolnshire Flooring carries out work locally, but also works for national companies further afield, including in London. We have carried out work for businesses such as Lloyds, Barclays, Morrisons, ASDA and Pret A Manger, as well as local health authorities, hospitals, doctors' surgeries, councils, schools, colleges, universities, prisons, care homes, health clubs, gyms, camps, pubs, restaurants, shops and builders.
The key products that Lincolnshire Flooring provides in terms of commercial flooring are commercial carpets, vinyl flooring, safety flooring and carpet tiling. Based in Lincoln, we are Lincolnshire's largest commercial flooring contractor, carrying out contracts of values of up to £200,000. For more information about our commercial and contract flooring services, please visit the new section of our website: http://www.lincolnshireflooring.co.uk/commercial/