Choosing flooring for wet areas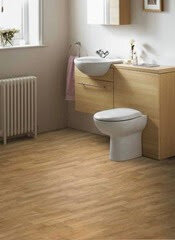 One question that we are frequently asked is what type of flooring is suitable for certain rooms in the house. Quite often this is regarding rooms in the house that are likely to get wet. The key rooms that fall into this category are the bathroom and the kitchen.
Out of the five main types of flooring – carpet, wood, vinyl, laminate and Luxury Vinyl Tiles (LVTs), wood is the most unsuitable choice for a wet area. We would advise against putting it in a kitchen, and would categorically refuse to put it in a bathroom. Why? Because a wood floor will soak up water like a sponge, drawing moisture from the air when it is damp and expanding, releasing moisture and shrinking when the air is dry.
You can use carpets in both kitchens and bathrooms, although very few people put carpets in their kitchens these days. This is largely due to cleanliness and hygiene issues – carpet gets wet, dirty and greasy from cooking. People do still like to have carpets in the bathroom for the same reason that they have carpets in the bedroom and the rest of the upstairs area of the house – because it is soft, warm and comfortable underfoot.
The downside of course is that it absorbs water and you get a damp carpet, although if you house has central heating then this is not as much of a problem as it will dry out. Still, if you want carpet in your bathroom, you might want to consider a hard area around your shower or bath so that you don't step out on to your carpet with bare feet, and you also might want to consider manmade fibres.
Laminate isn't a great option for wet areas either, although it can be used in kitchens and frequently is. It is low maintenance and looks fantastic, but doesn't perform well if it gets wet. A washing machine leak or a back door that's frequently left open can ruin it, so you need to take steps to make sure it doesn't get wet if using it in a kitchen.
The two best options for wet areas are LVTs and vinyl. Vinyl doesn't mind water, making it ideal for areas that get wet. It is low maintenance, looks great, and good quality vinyl is hardwearing and (most importantly for wet areas) slip resistant. Luxury Vinyl Tiles (LVTs) look incredible and have a fantastic impact. They allow you to be unique and creative with your flooring, and are quite low maintenance. Also, both vinyl and LVT floors allow for underfloor heating, so you can walk around barefoot in your bathroom or kitchen if you want to, without getting cold feet!
For more advice on what type of flooring is best for which room of the house, please take a look at our room by room flooring guide which covers all rooms of the house, give us a call on 01522 524374, or pop in to our company showroom where our experienced sales staff will be happy to guide and advise you further.