Choosing flooring for the upstairs of the house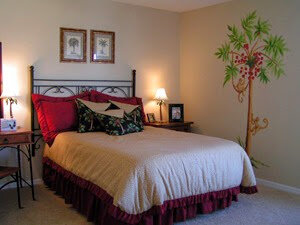 When it comes to choosing what type of flooring you want for the upstairs of the house, you can separate the rooms into two categories: wet rooms (such as bathrooms) and then the rest. This article looks at the rest: bedrooms, the landing, stairs, and any other rooms you may have upstairs. To read about what type of flooring to include in wet areas, please click here.
Carpet – the popular choice
It is quite normal for people to put the same type of flooring throughout the upstairs of the house, usually carpet. But why is carpet such a popular choice for the upstairs rooms of the house? Because more often than not you will be walking around barefoot upstairs, whether that is last thing at night when going to the bathroom to brush your teeth, first thing in the morning when heading to the shower, or walking to your child's room in the middle of the night when they've had a bad dream. You'll be barefoot usually, so you want something that is soft, warm, luxurious and comfortable.
One of the other advantages of carpet is that it is available in a wide range of colours and patterns, so you don't have to have the same carpet throughout– you can have a blue carpet in the master bedroom to match the decor there, a green carpet in the spare bedroom to match the decor there, and a beige carpet on the landing and the stairs if you so choose.
Carpet is also available to suit a wide range of budgets. If you are trying to save money, it makes sense to put a better quality carpet in the master bedroom and on the stairs and landing, as you are going to be spending more time walking on the carpet there. You should put a cheaper carpet in the spare bedroom, as it will probably only get walked on about once a week and so will last longer.
Other options
Although carpet is by far the most popular choice for the upstairs rooms of the house, it isn't your only option. You might not want carpet upstairs because you or your family are asthmatic, or because carpet would not match the character of your house.
All of the other four key types of flooring – laminate, wood, vinyl or luxury vinyl tiles (LVTs) are good options for the upstairs of your house, however they will probably feel quite cold on bare feet, especially in the winter, so you might want to consider underfloor heating.
If you do want to go down this route, your options are an engineered wood floor, a laminate floor, or an LVT floor. LVT floors in particular look fantastic in bedrooms, and each floor is unique, meaning you can design a floor to match the character and feel of your bedroom. An LVT floor is limited only by your imagination!
For more advice on what type of flooring is best for which room of the house, please take a look at our room by room flooring guide, give us a call on 01522 524374, or pop in to our company showroom where our experienced sales staff will be happy to guide and advise you further.