The benefits of laminate flooring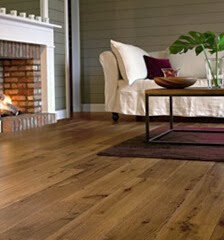 Lincolnshire Flooring are an approved stockist and installer of the Unlin range of Quickstep laminates.
Unlin design and produce Quick-Step floors. Founded in 1960 by several families from South-West Flanders, Unlin grew quickly, and in 1990 Quick-Step hit the market when Unlin became the first laminate manufacturer to go to market with its own brand.
Laminate flooring started off as a more cost-effective alternative to wood flooring, and that is still one of the great benefits of it. Laminate allows you to create the effect of a real wooden floor without the hassle and cost of using real wood. But it is no longer just that, and is certainly no longer perceived as the "poor relation" to wood. In fact, it has become increasingly difficult to tell the difference between wood flooring and laminate flooring.
Laminate is quick and easy to fit. It is also both easy to clean and to maintain as it has a sealed surface. It is durable, hardwearing, resistant to scratches and other damage and comes with a 20 year guarantee. This therefore makes laminate and a very practical flooring, and ideal for high traffic areas of your home such as kitchens, hallways, stairs,dining rooms, living rooms etc.
As well as being practical, it is also very beautiful and versatile. Laminate flooring is available in both tile and wood effects in a wide range of sizes, styles and finishes, with an extensive range of accessories. It is now even available for bathrooms with the introduction of Quick-Step Lagune.
To learn more about laminate flooring and full options for your home, give us a call on 01522 524374 or pop in to our showroom in Lincoln on Outer Circle Road.