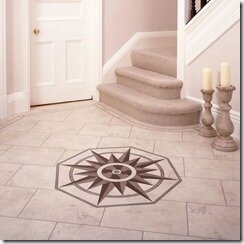 This post looks at one of our most popular products – Amtico flooring.
If you haven't heard of it before, you are probably wondering what is Amtico flooring?
Amtico is one of the most popular types of flooring across the UK and the world. It is a vinyl based product which is made to look like other types of flooring, such as wood, glass, stone and many more.
It is available in a wide variety of colours, styles, themes and designs, and there is also a wide range of boarders and feature strips.
The key point about Amtico is just how realistic it is. It look and feels like the real thing in terms of texture, colour and style. It is renowned as a very beautiful and luxurious product.
However, it is much cheaper to have Amtico flooring than real wood flooring, and is also incredibly practical. It doesn't require maintenance, is extremely hard wearing, and easy to keep clean. It is resistant to stains, slips and water.
It is made up of tiles and strips which can be combined in different ways to make different patterns and designs. It therefore allows you to be as creative as you want to be as it is so versatile. The combinations are endless.
It is ideal for use in bathrooms, kitchens, living rooms, halls, bedrooms and conservatories. It is also great for businesses.
It is such a great, durable product that it comes with a 20 year residential guarantee which is fully transferable if you decide to sell your home. No other floor finish offers this, so you know that if you choose Amtico flooring, it is a sound investment as it will last a long time. Amtico is therefore great value for money!
If you would like to know more about Amtico, please visit our showroom and chat to our friendly sales staff, or call us on 01522 524374.