Changes in flooring tastes and factors that affect those changes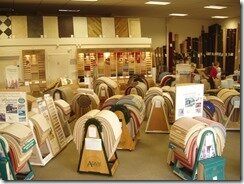 There has been a great deal of change in what we choose to put on our floors over time, which is not surprising, as nothing lasts forever.
Cork, for example, which was very popular in the 1960s and 1970s, has waned over time.
Ten years ago, two thirds of carpets sold at Lincolnshire Flooring were patterned carpets. Now, there is an association in many people's minds between patterned carpets and "old ladies' bedrooms". With less demand for patterned carpets, prices have increased because of the cost of the machinery required to create the patterns.
Previously popular Belgian carpets have become less popular, with people now preferring Chinese and Turkish carpets.
Green carpets used to be a bestseller. However, around 85% of the carpets now sold at Lincolnshire Flooring are beige, and it is very much the fashion to keep your walls and carpets plain, and use your curtains to inject some colour in to your room. The competition to Lincolnshire Flooring now comes from shops selling other products for the home, rather than other flooring companies. If people keep their walls and carpets plain, then they don't need to change them in order to change the appearance of their room – a new TV, or a new picture can do that instead.
The influence that TV makeover shows have on people's shopping habits when it comes to buying flooring cannot be underestimated. TV makeover shows, house building and design shows and house selling and buying shows have large daily or weekly audiences, so if a property or design expert on one of the shows makes a statement about a certain design or a certain type of flooring, it will most likely have an effect on the flooring industry. In fact, a product which might have been popular can within 3 or 4 months suddenly lose it's popularity as a result of a TV makeover show.
This might not necessarily be due to a criticism or praising of the flooring, but if a new style of kitchen, for example, becomes popular as a result of these TV shows, then whilst people are getting a new kitchen they will want a new vinyl to match the kitchen. As the old avocado bathroom suite gets replaced, the flooring gets replaced with it.
These are just what we have been seeing from the shop floor, but ultimately, everything comes down to individual tastes and budgets, and Lincolnshire Flooring caters for everyone's tastes and budgets. To see our full range of carpets and other flooring, drop in to our showroom on the Outer Circle Road in Lincoln. We're open Monday to Saturday, 8.30am to 5pm on Monday, Wednesday and Friday, 8.30am until 7.30pm on Tuesday and Thursday, and 9 until 5 on Saturday. There our friendly sales staff will be happy to help you with all your flooring needs.