Why do Lincolnshire Flooring employ their own fitters?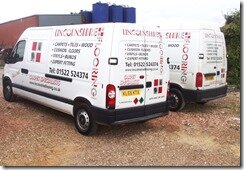 Here at Lincolnshire Flooring, we are proud to say that we employ all our own carpet and floor fitters.
This might sound like a strange boast – who else would employ them you might ask?
Well, with many carpet and flooring firms, you pay the company for the carpet or the flooring, and then you have to pay the fitter (a freelancer rather than somebody employed by that company) separately for fitting the carpet. Whilst these subcontractors may do an excellent job, they are not employed by the firm you bought the carpet from. Therefore, the shop that you bought the carpet or flooring from does not have any control over the work carried out in your home or business. If there are any issues arising afterwards, it can be unclear who you go to – the company who supplied the carpet, or the "man in a van" who fitted it.
When you buy carpet or flooring from Lincolnshire Flooring, you know who is responsible for both the supply and the fitting: Lincolnshire Flooring. You pay one price for both the carpet or flooring and the fitting. All of our fitters are employed by us, they wear the Lincolnshire Flooring uniform and they all drive Lincolnshire Flooring liveried company vehicles.
By employing our own fitters, it also means that we can train them to our own very high standards. There is no recognised training body for the flooring industry, so we provide apprenticeship schemes to our new fitters, and then encourage and support them to further their knowledge and experience through both internal and external training.
Lincolnshire Flooring also offer a full site survey, measuring service and aftercare, meaning that we are a one-stop shop for every part of your carpet and flooring buying and fitting.
If you would like to come and visit our showroom to start the process of having new carpet or flooring fitted, our company showroom is on the Outer Circle Road in Lincoln and is open from Monday to Saturday with free parking.