A guide to the best flooring for pets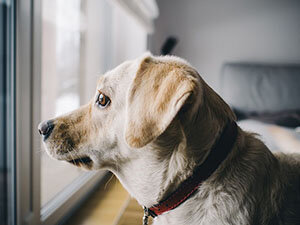 When it comes to choosing flooring for our homes, you don't want to spend lots of money on a new floor to end up regretting it days, weeks or months down the line when you realise you had unfortunately made the wrong decision.
As much as we love and care for our pets, they can wreak havoc with new carpets and scratch floors with their claws. It's not their fault of course, but it's important that they are factored in to your decision when choosing a new surface.
In this guide we are going to look at the best and worst kinds of flooring for our pets, considering the pros and cons of each type of flooring for each pet including practicality, comfort and cleaning ease.
Vinyl flooring
Vinyl flooring is a great choice of flooring for lots of reasons, it's resilient, hard-wearing, easy to clean and affordable. It's also a very practical choice if you have pets.
Vinyl flooring is one of the most durable types of flooring out there and is particularly resistant to scratches and tears. Our pets can cause lots of wear and tear to more delicate types of flooring but vinyl is very strong so can take a lot of punishment.
Additionally vinyl flooring has the benefit of water resistance which means that if your dog or cat has an accident it can be easily cleaned up, along with the usual mess of pet hair and dirt from outdoors.
Finally while vinyl flooring is tough and durable it is also fairly comfortable underfoot for your pets, especially when compared with harder surfaces like tile or solid wood floors. This means that it more comfortable for your cat or dog to travel around and also quieter, with less noise as they move around.
Solid wood floors
Favoured for their sturdiness and warming, traditional look - solid wood floors are among the most popular types of flooring for a home and can add value to your home. However, they aren't necessarily the best choice for a pet owner.
Wooden floors aren't quite as easy to clean as other types of flooring and may soak up stains more easily. So if a pet leaves a mess it can result in a dark spot on a wooden floor even after you clean it up and especially if you have a lighter coloured floor. The only way to remedy this might be to strip it back, sand it down or replace it.
However, if you really have your heart set on a hardwood floor then you still can but you'll need to take extra precautions. For example, you may want to keep your dog's nails trimmed smooth and short to avoid scratches on the floor. They should also be potty trained and know not to make a mess in the rooms where you have hardwood flooring in place.
Laminate Flooring
Laminate does a great job of mimicking wood, it looks and feels very similar but with it you have a lot more durability than genuine wooden floors and it's also very low maintenance – you only need a mop to keep it clean. However, while laminate is a great product and more scratch resistant than a solid wood floor, it doesn't cope well with moisture which is why most people avoid having it in their bathrooms. This also means, unfortunately, that if your dog urinates on your floor it may cause big problems. For example, if liquid isn't cleaned up straight away and seeps into the joints between the laminate flooring.
Carpet
While carpet might seem like a good choice for your home due to its cushioned nature and warm comfort under your pets paws, it's probably not the best option available to you.
This is because carpet is very porous and will soak up any liquid spills such as urine from your pet. The fibres can then hold odours and colour for a long time which is not pleasant for you as a homeowner or for any guests you might have visit.
Carpet is also less resistant than other forms of flooring like LVT or Vinyl which means that over time it will wear down with your pets moving around and snagging their nails on the carpet fibres.
While carpet is usually quite affordable, it's important to remember that money shouldn't be the only factor to consider. After all, you won't be saving money if you have to replace it sooner than you planned.
If you can't envision your home without warm and comfortable carpets then you should make sure that you protect your carpet by learning how to properly clean up stains and remove pet hair.
LVT Flooring
As we have explained, any floor that you choose for your home needs to be resistant to scratches, moisture and mess if you have pets living with you.
With that in mind LVT (luxury vinyl tiles) are often a great choice. Lots of work goes in to LVT flooring to help replicate the fantastic textures that you find with flooring options like solid-wood, however crucially it is more resistant to scratches and moisture which makes it a perfect choice for homeowners with pets or active families.
Tiles
Ceramic tiles are a good choice for any home – particularly in kitchens and wet areas. They are very tough which makes them quite resistant to scratches or chipping, they can also be cleaned easily which means they can act as a good "midway point" between your garden, your kitchen and your living room where you might have a more delicate floor in place.
Let's say your pet gets dirty when you take them for a walk or while they play in the garden, a tiled "buffer" area will avoid having them traipse dirt right into your carpet. In addition to this ceramic tiles are an affordable option if you're working on a budget.
Alternatives
If you're not convinced that Vinyl, LVT or Tile flooring is the right fit for your home then you might want to consider alternatives such as having your dog trained so that it no longer urinates indoors and also making sure that its nails are regularly trimmed. You may also be able to purchase a "pee pad" from a pet shop which you can train your dog to urinate on rather than making a mess elsewhere on the carpet; this fabric soaks up the liquid and can then be disposed of in the bin afterwards. Some even come with pheromones which can encourage your dog to aim in the middle of the pee pad for less mess.
Click here to read our article "Flooring: A Product Guide" for a comprehensive guide to the best options of flooring available for your home.
---
---