The basics of kitchen flooring – what you need to know
If you're considering having a new kitchen fitted this year or you are renovating your kitchen then there are plenty of things to consider. But before you get stuck in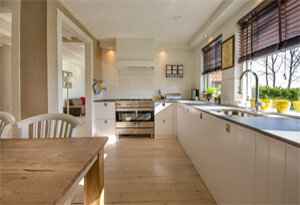 to work surfaces, cabinets, range cookers and other appliances, you need to have a long, hard think about one key element – the flooring.
Just like the wallpaper and paint colours of a room create the backdrop for everything else inside, so too does the flooring, which is why it's so important to make an informed decision. Choose poorly and you could end up with an expensive flooring that quickly deteriorates, doesn't feel comfortable, doesn't look great and makes you regret jumping in so quickly with your decision.
Here we will look at some of the important things to consider when picking your perfect kitchen floor so that you can avoid any headaches going forward.
Price
One of the key things that will dictate which type of flooring you go for is the price, so let's take a brief look at which types of flooring are the most expensive and which types are the least expensive. At the top end of the spectrum you have very luxury types of flooring like leather tiles, polished concrete and resin. These high-end types of flooring certainly make an impact but are at the very top of most people's budget edging out at upwards of £100/m². At the other end of the spectrum, there is laminate flooring and ceramic tiles which depending on quality can be purchased for as little as £10m².
Size
Every home is different and while some people are lucky enough to have glorious open plan kitchen spaces, a great many of us have to make the most of what we've got. If your kitchen is on the small side, then there are a few things that you can do to make it seem bigger.
Most interior decorators agree that white can work wonders for small kitchens by maximising natural light. However, try to avoid making everything in the room white, and allow contrasting splashes of colour. For example, you could opt for white walls and units, but contrast this with a light brown laminate flooring to add texture. This form of 'low contrast' design adds depth and volume to a room through just hints of difference.
Don't forget to make the most of the space you do have by incorporating clever storage. It's often the small appliances, recipe books and groceries that can make a kitchen look cluttered, so try hiding them away with good storage solutions.
When it comes to flooring you can make the most of a small kitchen by utilising a few sneaky techniques. One such maneuver is to use striped flooring to create the illusion of space. Striped flooring horizontally takes a person's gaze towards the edges of the room which stretches its appearance. Another option is to use chevrons, diamonds and other unique patterns which can also do a similar job of expanding perceptions.
Style
Another key decision you need to make is whether to go for a plain type of flooring or a patterned type of flooring. Plain floorings integrate well into almost every kind of room and create a 'bedrock' for other interior design decisions to be based around.
They detract very little from the other objects in the room and typically sit in the background. However, that's not to say you can't use plain flooring to make a statement. Sometimes a particularly vibrant solid block of colour, or just simply contrasting colour, can be the most talked about feature in a room if you want it to be.
Alternatively, you could opt for a patterned type of flooring. Patterned floorings can really add something to a kitchen that is reserved in its design and colour. If you are opting for low contrast features and want to add some texture, then you should certainly consider a patterned floor to do the trick. However, be careful not to overload a room. If there is already a lot going on in your kitchen in terms of features and contrasting styles, then a patterned flooring may make it appear crowded.
What are my options?
Now down to the biggest decision of all – which type of flooring is most suitable for a kitchen? Well, let's begin by telling you which types of flooring are to be avoided.
First up is wooden flooring. While wooden flooring is one of the most attractive types of flooring available, its unsuitable for the modern-day kitchen. Today's kitchens tend to be very humid places, and this spells bad news for wooden flooring.
Wooden flooring is hygroscopic, this means that it acts like a sponge, soaking up all of the moisture in the air. So, when you're cooking your Sunday roast in your kitchen and the air is full of moisture, the floor boards beneath your feet will retain the water particles causing the wood to expand. Then, when the air returns to normal, the water is released suddenly and your wooden flooring becomes cracked and warped.
We understand that a great many people do love the idea of having wooden flooring in their kitchen for the aesthetic, which is why we recommend alternatives such as Luxury Vinyl Tiles (LVT), which closely mimic wooden flooring but can cope much better with the humidity of the everyday kitchen.
Luxury Vinyl Tiles are one of the most eye-catching types of flooring that we offer. They can be customised to your needs with various designs and are easy to clean with a mop. What's more, they are great value for money as they can keep their excellent visual appeal for 25-30 years.
After LVT, one of the next best options for a kitchen is that of vinyl flooring. Vinyl flooring is a great option for the kitchen as it is easy to clean, durable and robust. Kitchens can become messy and dropped food and drink shouldn't be a hazard to your floor. Vinyl is hardwearing and can even be slip resistant.
Another option for kitchens is that of laminate flooring. Laminate flooring is another way that you can easily mimic the coveted 'wooden-flooring look' minus the headache over cracks and warps. Laminate flooring has come a long way and a good product will typically come with a warrantee of 20 years. Again, laminate flooring is easy to clean, low maintenance and is also compatible with under floor heating. However, one downside to laminate flooring is that it is not a fan of water. If there is any chance of leaky appliances like freezers and washing machines or you live in an area prone to flooding, then laminate flooring is a bad call. The MDF backing that is part of laminate flooring is easily ruined by heavy moisture and will need to be replaced if damaged.
Finally, carpets look fantastic in almost every room in the home – but not the kitchen. The practicalities of kitchen activities mean that there is a high risk of stains, water damage and subsequently mould, so installing carpet in a kitchen, or indeed a bathroom, is generally never a good idea.
For more tips and advice on choosing flooring, please visit our blog. Alternatively visit us at our showroom on Outer Circle Road, Lincoln or call us now on 01522 524374 to speak to one of our team.
---
---